Categories: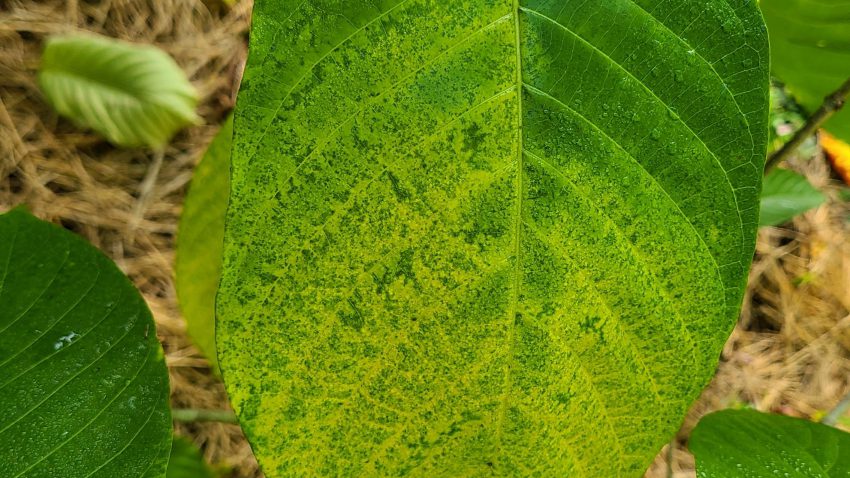 Review of Raw Kratom Leaf by Daniel Young
Thanks again for shipping those leaves out overnight to me, it was much appreciated. Quick question for you (and maybe a stupid one) – for the leaves that are starting to turn brown and wilting, are they as effective and still safe to eat? They've just been left in the bag they came in so I don't know if that makes a difference. I don't want to chomp down on these for the next 20 minutes if I won't get the desired result or if it will make me sick lol
Here's is what I'm talking about, I was thinking about eating these ones but wanted to check with you first.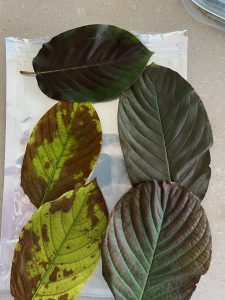 Loved the fresh leaves, grabbed about 6 of those suckers and chewed on them for about 20 minutes, totally different in a good way, very clean. I did find it took at least 10 leaves to feel comparable to the 6 grams of powdered tea I take usually but they also have their own unique experiences. Not sure what I can say so stop me if I go too far but I do find the fresh leaf helps me stay very clear headed while being able to relax and it has helped with sleep. I have horrible insomnia and refuse to take pharmaceuticals these days so this was a unique surprise to be able to have some aid in that department.
After my first go around I decided to try the sugar method (that's me in the video) CUSTOMER VIDEO which was much better tasting. Also dipped some in honey to preserve them and that was even better tasting.
Review of Raw Kratom Leaf by Daniel Young
Categories:
Rescuing kratom trees in Fort Myers, Florida!
Edit; all trees, red wiggler compost colonies, and many of my planters are gone! Thanks to those two who came through, first guy got the big load then yesterday we got the last ones, the biggest ones, out of here. I know I dont have pics but even the pics i was taking were not showing the sheer scale of what I had going on so I think it was a little bit of an "oh shit" but "fuck yeah" moment for both and I will help these guys keep the genetics going. Not a great time to sell trees anyway, my best chance was 2015 or if I started with the trees I got in 2016 which turned very quickly into giant trees in Florida so not too worried about the loss, just the loss of time, effort, and money. But benzos made me make all the wrong choices leading to this so stay off the real drugs kids.
Ii tell you what the kratom extract is real drugs too and is what is causing this scheduling madness, stay away from those horrible products. I was taking in combo with benzos of course but extract is too strong, lasts way less time, doesn't have the same ceiling effect and are dangerous just because they skyrocket your tolerance. I am not a smoke shop buyer so I had it in bulk but used it up quickly and blew my tolerance up. Finally back to 20-30g leaf (its really strong but way better than extract) daily and around 10mg etizolam (was legit taking 50mg or more just being a complete idiot and lost control of my life so this was clearly not going to make me money and I have the connections and have no doubt these guys have the land to get me some decent trees back some day with the genes they got.
Thanks again all, that was TRULY LAST MINUTE the storage locker was ready to make things even worse than they already are buy they were SO patient I would reccomend then to anyone. I really pushed my luck but got into a single locker yesterday so all is well and I have tons of seeds still. If anyone wants huge 95 gal garbage bin planters (basically mobile planters, biggest you can find) I still have 3 of those with good soil in them. No more trees though just seeds and I can turn those into trees, I would probably only grow a few varieties for actually using them anyway. I never tried my leaves but I have inside info on the alkaloid contents, ill just say the prices of clones are arbitrary and don't mean SHIT. Also don't worry about mature plants and all that crap, so much internet/reddit knowledge is people's best guesses but we will have some hard data soon!
Apologies for getting short with anyone or being confusing, this is a tough time in my life and believe me it HURT BAD to get rid of all my work. But if I ever grow like that again it will be for myself and I have learned a lot and met some amazing people from this, actually another grower I almost owe my life to and I don't think I will ever be short of trees if I want them. Love you guys, wish the kratom community didnt get so toxic as it has been during this recent venture (vs 6 years ago when I started, but also drug problems would have screwed me over once or twice anyway)
Seriously bring some LOVE back to this community man, nobody is going to get rich selling clones at this point, be honest with yourself and look at the legislation man, just the fact you have to buy/sell so differently is a BAD SIGN for future legality. Get a clone or two but dont expect to get rich hahahah. It is not easy to break into when you have a few growers doing things so well and it is so hard to advertise. LOVE YOU ALL, wish me luck on this detox journey, kratom has helped and hurt in ways but it helps a lot when my doses are lower and I dont need to take it ever 6-8hrs. As I type its been 12 hrs since last dose and I feel okay as well as 1/10th the benzos so I will make it through but I need to clean up and worry about happiness and love over drugs and money. I always seem to get both if I really want them but my life has lacked love from my family and in general so I am working on that. Kratom isnt a cure for depression but it can be an aid if you don't go overboard.
Okay end rant, love you all, thanks for the reaching out and support i know people just like free stuff but whatever, you can't imagine what I have lost overall with dumb choices (ie pulled out 20k ETH at $2.2k for it to double in a month, long story) just be good to each other and don't go overboard like my dumb ass. I am lucky to be well educated and have lots of professional work experience so I'll be back in life in no time but my priorities I think will forever be changed after this one. I hate this cycle and ready to break it. /end rant for real
Categories:
16/12/2021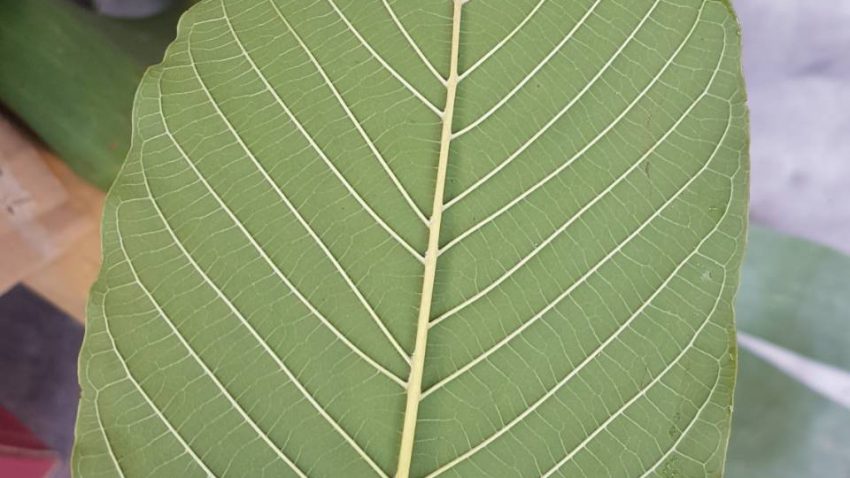 Never thought I'd be able to chew fresh raw kratom leaf at Universal Studios Orlando Florida.
Categories:
08/12/2021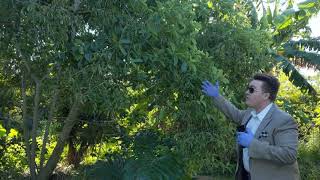 @BotanicalQueens Collab! – Explaining American Kratom Leaf
For this video we are partnering with @BotanicalQueens on Youtube ( https://www.youtube.com/c/BotanicalQueens/featured ). Thank you so much Emily from for allowing us to come on and talk about American Kratom. And highlight one of our 11 year old 40ft pink vein kratom trees. It is one of the tallest and oldest kratom trees in the United States. In this video, we go over what our American Kratom nursery looks for in picking fresh organic American Kratom Leaf. How to shape your kratom trees growing at home for a long term viability when picking. What some of the differences when it comes to kratom. We encourage you to sit back, relax, and understand the intricacy's of mature kratom leaf. We hope that you learn something. Solicitation notice: Please do not ask where to buy in the comments. These comments will be deleted and could harm the channel.
Categories:
Fresh leaf from Pervis Walter is seriously amazing. I tried the green, white, pink, and mature. I only needed 2-3 leaves (I mostly spit out the plant matter but you can swallow it!) and added raw sugar to cut the bitterness. It's not bitter like the powder though. And the 3ff3cts are incredible. Such a light feeling (makes you more aware of the mold content in certain powder teas) and made me feel optimistic, happy, carefree, and yes it helped the pa!n just as much as the powder does. Definitely treat yourself to this! (pm him for more info!).
Seriously, thank you for a life changing experience! I want to do an in-depth review on my YouTube channel of you in the future . More people need to try the fresh leaf!
Emily Petokas – Botanical Queens
24/09/2021
Picking 10ft kratom tree before transport
Picking 10ft kratom tree before transport- We are picking this 2 year old 10ft tall kratom tree before we transport it. We do this so that the leaf does not get damaged during transport. 40mph winds can damage kratom leaf. It is best to wrap them up if you can. You can see us drive the tree here: https://www.youtube.com/watch?v=zC6HwWBL2os&t=1s and you can see the tree vertical where I failed to move it here: https://www.youtube.com/watch?v=V70Iv9xrNR4&t=3s . This tree is one of 3 that we have to move and I will post the other moves when I film them. Thank you to Joshua for helping me out.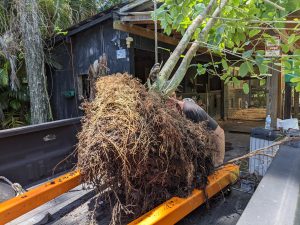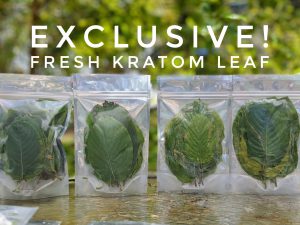 24/05/2020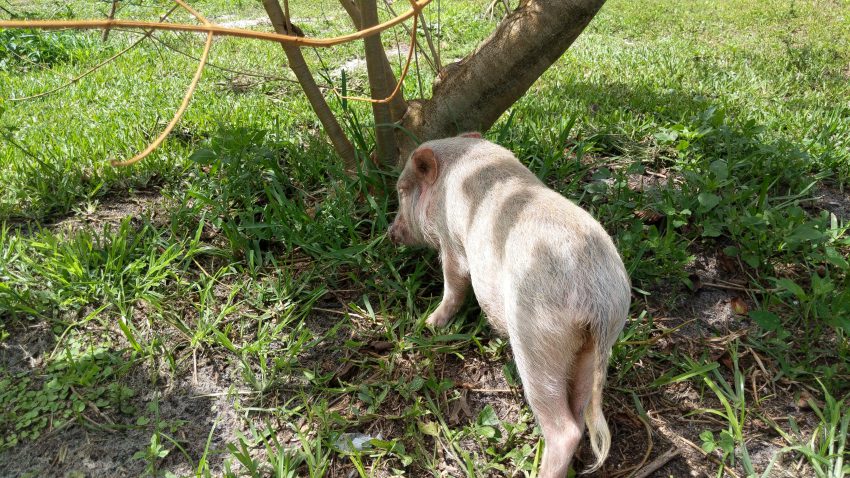 Puppy and pig playing around a American kratom Nursery
Puppy and pig playing around a American #kratom Nursery