A review by Kyle McCready
Looks like my order is coming a day early! Thanks again for the quick response. Even with the usps being all screwy, you've still got the fastest shipping and the best quality I've found so far. If I need kratom, it comes from you. Excited to try out the different strains and all that. But once again, thank you for the quality product, fast shipping, and quick response to email. Wouldn't rather buy from any other source. – Kyle McCready
Categories:
24/09/2021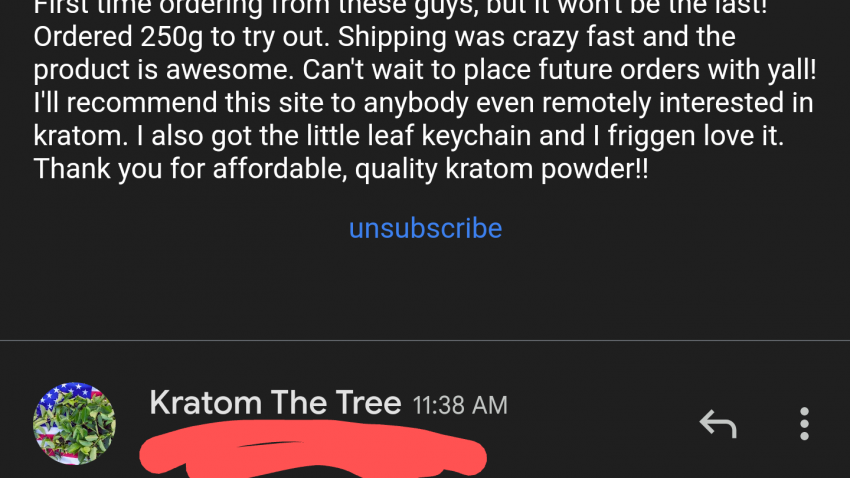 Red indo Message Body: Just wanted to leave a review for the red indo. First time ordering from these guys, but it won't be the last! Ordered 250g to try out. Shipping was crazy fast and the product is awesome. Can't wait to place future orders with yall! I'll recommend this site to anybody even remotely interested in kratom. I also got the little leaf keychain and I friggen love it. Thank you for affordable, quality kratom powder!!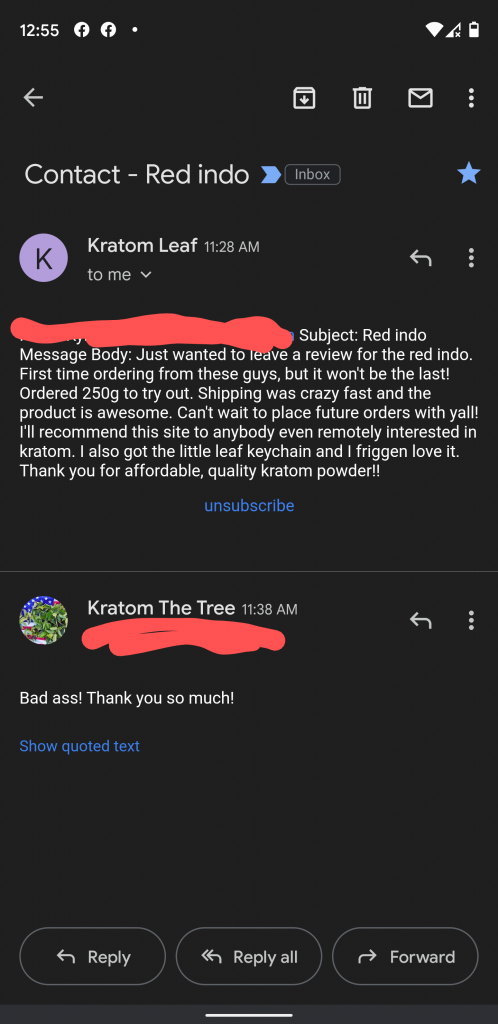 Customer review from reddit ( yoario110 )
I just subscribed to your youtube channel and as soon as I can I'm going to download the app I wish I lived in a better place to grow. I may move to Southern Utah just for this purpose. Wow Im super glad I commented on your post bc I never would have found you. Meaning your company. Well you too tho lol.
yoario110   8/13/2021
10/05/2021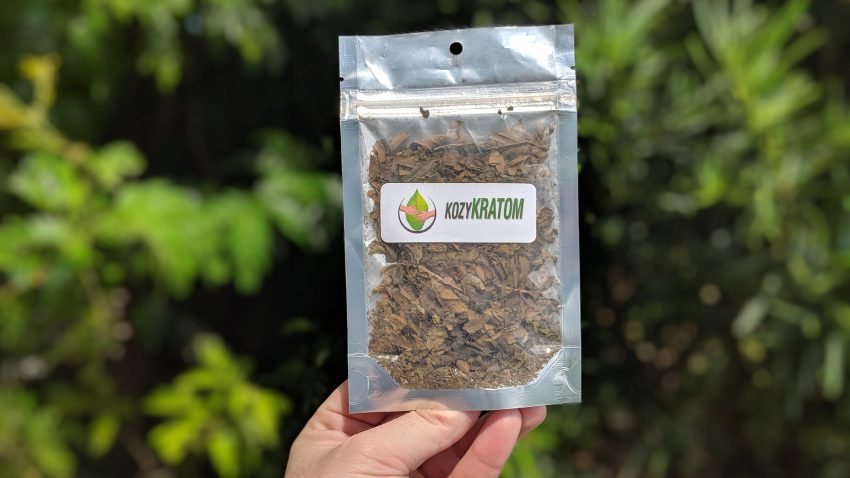 Another User Submission on How they make kratom tea
Another User Submission on How they make kratom tea- Leaf is beautiful I like brewing it a few times and add the cayenne pepper and black pepper fresh lemon of course. 35-50 minutes on simmer barely boiling got like a golden color Chewing the leaf required about 2 X more leaf than brewing the cough relieving properties of cane sugar with kratom is interesting. A user submission by Alexander Galaska
Categories:
20/10/2018
Indonesian Premium Select Red Vein Review
Indonesian Premium Select Red Vein Review- It's my mail call day… for me, it's Kozy Kratom, from our very own Walter.
First, Walter is awesome! Very available to answer questions, and shipping was fast and arrived as expected. Everything looks great it and even contained some "extra goodies" 
Now, the product, as i just got the mail 30 minutes ago, the first thing I sampled was powder, first off, the taste is wonderful. Very mild, compared to SE Asian powder. Maybe that is a freshness thing. The quality is top-notch! On an empty stomach, I use "shake and swallow", only took about 15 minutes to start feeling relief, about 30 for full relief. I also ordered fresh leaf.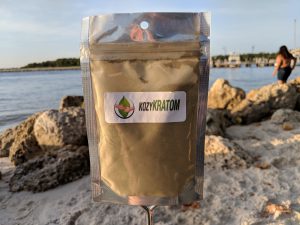 Kratom Watchdog Android & IOS
Have you heard of the Kratom Watchdog app? Kratom Watchdog is a kratom social network built from the ground up by one of the founding member of the non-profit American Kratom Association (AKA). A booming social community with a focus on kratom advocacy. Kratom Watchdog is the oldest kratom social media platform online. With over 400 videos and over 200,000 photo's from our own kratom Nursery. And 7,000 members we have a very strong growers community that are always willing to help. Kratom Watchdog is available on Android, IOS, and at kratomwatchdog.com. We are a small self funded development studio. If you would like to donate to the development of the platform we would appreciate it. Thank you for your continued support.



Where does the money from your order go to?
We are a small self funded American Kratom nursery. Our team does not take payment for our work. Everything we make goes back into the nursery, Documenting kratom, Our kratom social media platform Kratom Watchdog, Our kratom avatar chat Kynto, and our other kratom advocacy projects.
20/10/2018
I have never tried crushed leaf before but I assure you that I will be ordering more! I used spring water and a half of a teaspoon of lemon juice and let it simmer for almost an hour to make a sort of tea. I put it in a glass container in the fridge. I tried about a shot glass full this morning and it was awesome. That was all that I needed. I felt great and had no pain. I was able to get a lot of things done today. I'm simmering the remainder now and will be ordering more soon. I highly recommend this!!