Categories:
How to Pot Kratom Plants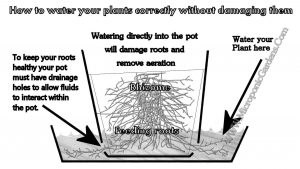 How to Pot Kratom Plants
The problem that many growers of equatorial tropicals (like Mitragyna Speciosa or Kava kava) run into is that some pots don't have any drainage. Other pots may have a built in reservoir/saucer, but it may be very small and not retain much if any water. These types of equatorial tropical plants typically need to be very swampy, humid and kept at 70F-85F with a RH of about 70-90%. Plants like Mitragyna Speciosa can be damaged from sudden humidity changes that will turn your plant or just it's leaves into mush.
Correct pots with holes allow beneficial bacteria to interact within the rhizosphere of the plant to generate more available food sources. This bacterial boost aids in delivery of nutrients to the rhizome for efficient root, leaf and stem production to take place. So you don't want to drown this region of the plant. (see illustration below so you don't drown your plants)
When roots are kept inside a pot that has no drainage the PH will rise as the plant eats and the environment for the roots will become toxic. The plant will slowly get nutrient deficiency symptoms as the roots putrefy.
Watering on the outer saucer or tub will ensure a healthy root system with the correct PH and a higher oxygen environment that is toxic to pathogenic bacteria that could harm the roots.
Never water directly onto the soil.
Watering directly into the pot, onto the soil is bad because doing so will remove the aeration that is necessary for a stable environment for beneficial bacteria.
Watering directly onto the topsoil of a potted plant can also cause erosion damage which will expose roots kill small root hairs with the sunlight and possibly damage the Rhizome (kinda like the brains of the plant) which will cause a slowdown of growth, invite bugs, and cause unwanted disease into your root system.
Correct water depth is necessary to keep tropical plants healthy and active.
Although some plants are very tolerant to overwatering they will eventually start to show signs of slowed growth and lower nutrient absorption manifested in smaller thinner leaves with yellowing on the edges or in the ribs of the leaves.
Lowering the water level to the correct level will show full green new growth.
Neglecting to water will almost always cause wilting followed by a full defoliation which in my experience over the years kills smaller plants instantly. Larger plants can often recover from the wilted stage by placing them in higher humidity of close to 90% RH and maintaining correct water level and PH of 5.8